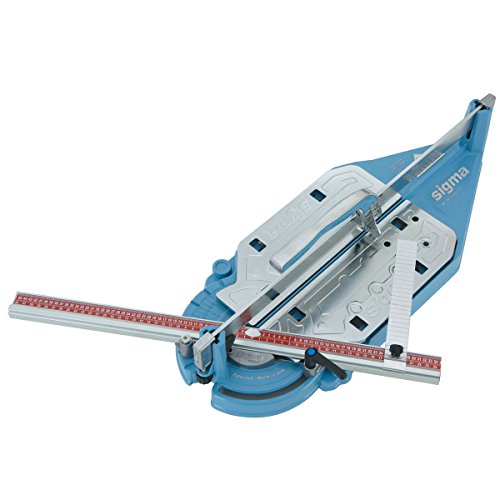 (Last Updated On: February 25, 2016)
Sigma 3B2 Pull Handle Cutter 26 inch Features
Easy grip pull handle
Swiveling measurement bar in inches for diagonal cuts
Adjustable spring loaded table
Cuts material between 1/16″ and 3/4″ thick
Rapid positioning button
Specifications
Effective cutting length: 26″
Diagonal Cut: 18″
Max cutting thickness: 3/4″
Weight: 24 lbs
The change from scoring to breaking position is achieved by a small vertical movement of the hand-grip. Broad tile support table, with the advantage of measurement is conveniently close to the operator. Double registration provides regulation for cutting thickness. The swiveling measurement bar supporting the tile rotates through 45° in both directions and is pivoted at the center of the cutting line, allowing tocut the real measurement of the piece. The second measurement scale gives the length of the diagonal. Rapid positioning button makes the main angles immediately available.
1 new from $440.49

Last update was on: December 1, 2020 12:05 am
Length of Cut - 26 in. Diagonal Cut - 18 in. Weight - 24 lbs.
Easy grip pull handle
Spring loaded table
Swiveling measurement bar in inches for diagonal cuts.
Cuts material between 1/16" and 3/4" inch thick.